An interactive art installation experience
that casts actual and virtual shadows
on embodiment, presence, performance, and interactivity.
---
ShadowLoop
An interactive art experience by Lori Landay



--> Images from ShadowLoop@BTOT15 January 2015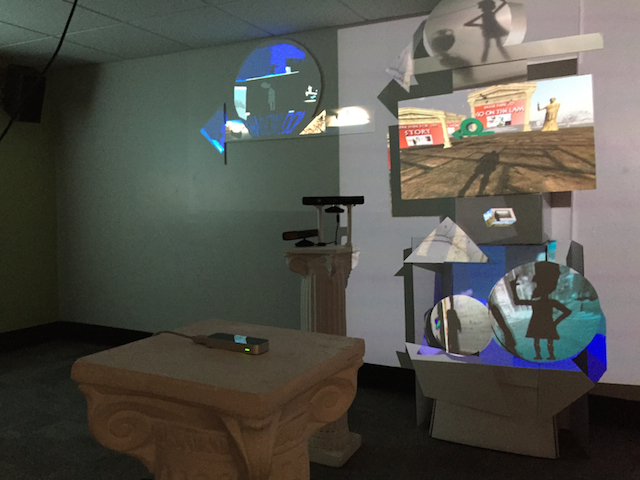 ---
---
About ShadowLoop

Get in the loop with the ShadowLoop interactive media installation.
Plato's Shadow is tired of Plato's negative attitude towards shadows, and has gone on the lam!
Use Kinect, Wii balance board, Leap Motion and sound to make Shadow run, dodge, and dance. Interact with video, audio, shadows, animation, and puppets.
Get in the loop between shadow and light, digital and physical, representation & simulation, freedom & control!
What will you choose, Shadow? Reunite with Plato, or not?

Plato's Shadow has had enough of listening to Plato, especially his disparaging ideas about shadows in his allegory of the cave. So Shadow takes off on his own and goes on the lam. In this interactive installation, you control Plato's Shadow in a Unity3D environment with the Leap Motion and Kinect controllers. What will you do, Shadow? Run amock or reunite with Plato?
ShadowLoop playfully imagines Plato's Shadow as a trickster who breaks free of the bonds of representation. The interactive installation cascades different forms of media and interactivity to cast literal and metaphorical shadows on the relationships between actual and virtual, physical and digital, representation and simulation, freedom and control.
The Loop is not only the connection and separation of the person and his or her own shadow, played out again and again, but also an artistic approach: a loop of taking images, sounds, and movement from the physical world into the virtual and back again, recursively transforming them through interaction and reaction. When motion capture animation that makes an avatar dance is mimicked by a person in the installation and performed by the 2D puppet, and the live video feed can be seen alongside audioreactive animation on objects in the Unity environment--that is just one example of the many loops in ShadowLoop.
In Plato's time, only someone like the prisoners in the cave who have never seen the actual world are fooled by the shadows; the media representations of that age were not the increasingly realistic and convincing simulations we encounter today. Our shadows are no longer only on the wall but among us, challenging what it means to be, and what it means to seem to be.
For me, as an artist, this project has run the gamut from oft-practiced media forms like digital video to learning shadow puppetry in two courses at the Puppet Showplace Theater expertly taught by Artist in Residence Brad Shur. It combines 2D and 3D puppetry, and frames the avatar as a puppet in both gameplay and virtual worlds.
The installation uses two Kinect sensors, a Leap Motion sensor, a Wii Balance Board, Unity3D, Osculator, Osceleton, Main Stage, Syphon, Touch OSC, MadMapper, Quartz Composer, Max/MSP and Animata to projection map video images of live action footage of shadows, the Unity gameplay, machinima captured in the virtual world Second Life, video of a shadow puppet performance of Plato and His Shadow, music by Moby, and audioreactive imagery.
Thank you to the Berklee College Office of Faculty Development for the Berklee Faculty Fellowship (2013-2014) that made this project possible. This project continues research begun with a National Endowment for the Humanities Enduring Questions Grant for "What Is Being?" (2010-2012) and extends questions first posed with a Newbury Comics Faculty Fellowship (2008-2009).
Special thanks to my teacher Brad Shur, Artist in Residence at Puppet Showplace Theater, my dear friend/colleagues Shujen Wang and Michelle Glaros, Stacey Fox who is my go-to for all things new media and old, and at Berklee to Jerry Smith, Chee-Ping Ho, Chris Jo, Liberal Arts Chair Simone Pilon, Liberal Arts Assistant Chair Mike Mason, Professional Education Division Dean Darla Hanley, Dr. Richard Boulanger who led the Reboot Workshop on Max/MSP last summer, the cohort of colleagues in that workshop, and my students: Chelsea Southard who worked on the earliest version last summer, current students Alex Cote, Rachel Dziezynski, Zach Lucia, and especially Richard Ludlow and Michael Johnson who patiently helped me with MIDI and OSC. Special thanks to my husband Richard for being a terrific partner who nurtured this project in every way, including technically and practically.
Although not meant to stand alone, there are three videos that comprise some of the images in the video projection mapping: "Dancing Shadow," filmed at LEA26: Dragon Curves by Mac Kanashimi, "On the Lam," filmed primarily at LEA7: Machinima Open Studio Project built by Chic Aeon and also at Apollonian Empire built by Orion Orsini, Dark Moon built by Nepherses Amat, Aero Pines built by Cindy Bolero, and Action Surf Sk8t built by Bob Pixel, and "SlowLight," with video of shadows. Music for all by kind permission of Moby.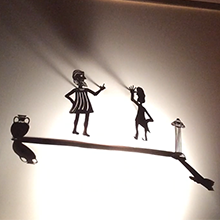 Shadow Puppetry
Actual manipulation of shadows
It's been a humbling experience to try to make the 2 dimensional puppets bend to my will. Overall, the puppets may have won (as the inanimate often tend to when we try to animate them in any medium), but I'm glad that I took a more literal and physical detour to explore the shadows and puppetry I was using metaphorically.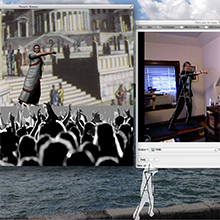 Kinetic Control
Kinect control of avatar in Unity3D
I made Plato into a rock star in this proof of concept experiment with controlling an avatar in a Unity3D environment using the Kinect sensor.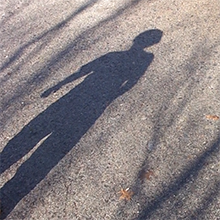 Shadow Footage
Live action footage
Photographing and filming shadows is different from performing with them, or creating them in animation or drawing. Along with machinima captured in virtual environments, video of the shadow puppets, and animation, the footage I took will become part of the virtual art installation space in the Unity3D environment as video textures on objects.
ABOUT ME
Lori Landay, Ph.D., blends creative and theoretical work in an exploration of the making of meaning in twentieth and twenty-first-century visual culture. She is Professor of Cultural Studies at Berklee College of Music, where she teaches in the Visual Culture and Interactive Media program. Her current project combines critical and creative work to explore subjectivity, presence, and the "virtual kino-eye" in interactive media, continuing the inquiry begun during her NEH Enduring Questions Grant for "What is Being?" in 2010-2012.  One aspect of that larger project is the interactive art installation,  "ShadowPlay," for which she was awarded a Berklee Faculty Fellowship for 2013-14.
RELATED LINKS
Blog Post about ShadowPlay Puppetry



Puppet Showplace Theater