Dr. Lori Landay
Professor, Visual Culture and New Media
Liberal Arts Department
Berklee College of Music
1140 Boylston Street
Boston, MA 02215

Office: Room 202, 7 Haviland
llanday at berklee.edu
voicemail: 617-747-2747
Twitter: @ProfLanday
Skype: lori.landay
---
Lori Landay, Ph.D.
Exploring the making of meaning in visual culture & immersive media through creative and critical work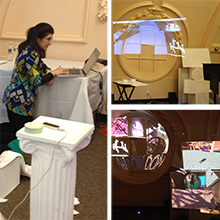 ShadowLoop
Interactive Media Art Installation
ShadowLoop playfully imagines Plato's Shadow as a trickster who breaks free of the bonds of representation. The interactive installation cascades different forms of media and interactivity to cast literal and metaphorical shadows on the relationships between actual and virtual, physical and digital, representation and simulation, freedom and control. In it, you use Kinect, Wii balance board, Leap Motion and sound to make Shadow run, dodge, and dance. Interact with video, audio, shadows, animation, and puppets.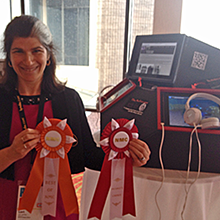 New Media
Digital, virtual, interactive
Creative and scholarly work in and on new media, from conference papers and essays to virtual art, machinima, interactive installations, presentations, and links to other explorations of interactive, digital, and virtual media.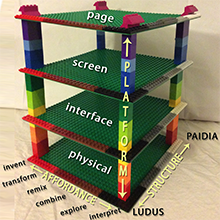 curricum vitae
Education, publications, presentations
All the items you'd expect to find in a c.v., plus links to to buy books, read papers, see award-winning viirtual art and videos, and more.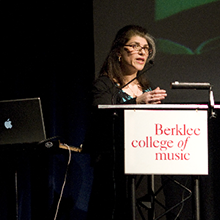 Teaching
Blogs, syllabi, learning objects
Current Courses:
Digital Narrative Theory and Practice (required for Video Game Scoring Minor)
The Language of Film (Prerequisite: Intro to Film Scoring)
[and on Berklee Online: Game Design Principles]
Syllabi available on academia.edu
Blogs with resources for courses are listed on blogger
Prezi and Slideshare